Rustic Outdoor Wedding | Daniel & Hannah Get Married On A Farm
Explore this beautiful Westen Australian wedding location. From an Outdoor ceremony on a Farm, through the bush to the most incredible views.
Daniel and Hannah met, like most couples, at a mutual friend's birthday.  They made wood fired pizza together and for reasons only known to Daniel and Hannah, she somehow ended up painting his face… hopefully with face-paint!
Daniel loves photography… & Hannah… not in that order… and said he wanted to take photos at Eagle Bay beach of the sunset . While setting up a romantic a picnic on the beach, he set up his tripod and camera. Everything seemed normal, so when the sun began to set, Daniel instructed Hannah to go and stand near the water for a photo. He took a photo, and then started walking towards her. He knelt on one knee and opened a box, that held the most beautiful ring, and asked her to marry him. "I said yes!"
He later told Hannah that he was holding a camera remote and was taking photos of my reaction while he proposed!
What's your most important piece of advice for creating and maintaining a strong relationship?
– Take other people's advice with a pinch of salt. Your relationship is yours and it is between you and your partner.
– It's often said 'don't go to bed angry', but sometimes that is exactly what we need. To get some sleep and wake up able to think clearly and talk the issue through (all the way through).
Tell us about your wedding gown and how you chose it:
My mum and I popped into a wedding dress store to "have a quick look". We didn't have an appointment booked, but luckily a staff member was available to help us. My mum and I picked out four gowns that I liked. I decided to try on the dress that I thought I would like the least (I didn't even have nude underwear on!). When I saw myself in the mirror I burst into tears, as did my mum. We immediately knew that that was the gown.
I then tried on the other three gowns, but they did not compare to the first gown. I was then told that the store was having a one-day sale, which included a free veil and hair piece and a discount off the gown. Before agreeing to purchase the gown I wanted my dad's approval. Later that afternoon he came to the wedding dress store and saw me in the gown. He said it was the one! I was so happy and we purchased the gown that night!
What sort of style did you envision for your wedding day?
Elegant, simplistic and classic.
What was your favorite moment from the day?
My favourite moment was the instant my dad walked into the room where I had got ready and saw me standing in my wedding gown for the first time. This was closely followed by the rush of excitement and nerves I felt the moment I took my first step down the aisle!
Any DIY décor elements?
I created the aisle decorations using pieces of organza material tied around the chairs with ribbon and flowers. I made a DIY seating chart using an old wooden frame and covered it with chicken wire. I then attached pieces of card with guests' names to the chicken wire using mini wooden pegs, and surrounded the frame with fairy lights.
If you could do it all over again, what would you change?
I would have my ceremony earlier in the afternoon. My ceremony was at 3pm and I felt I had a lot of spare time beforehand. Having an early ceremony allows more time for photos and time with your guests at the reception!
Any tips that you can give to future brides?
Have food catering organised for the day for the bridal party while getting ready and when leaving to take photos
Take a moment to stop and look at your audience before walking down the aisle
Continue playing the music for a minute when you meet your fiancé at the altar. Have a hug, take your time, take in everything that's happening.
Have a detailed run sheet – names and mobile numbers. Include small things like who will take presents home.
Trust someone with a spare copy of your ceremony music
Start EARLY: make a spreadsheet with guests' names and postal addresses
Order thank you cards before the wedding so they are ready for when you return from your honeymoon
Write a list of what family photos are needed and give this to your photographer
Anything else you'd like to add?
Suppling guests with water bottles is a great idea for hot wedding days
Avoid ordering items from overseas too close to the wedding date. Express shipping is expensive!
Try not to stress too much over the little things. In a year people probably won't remember what your menus looked like!
I asked my grandfather to say grace before the main meal. It was really special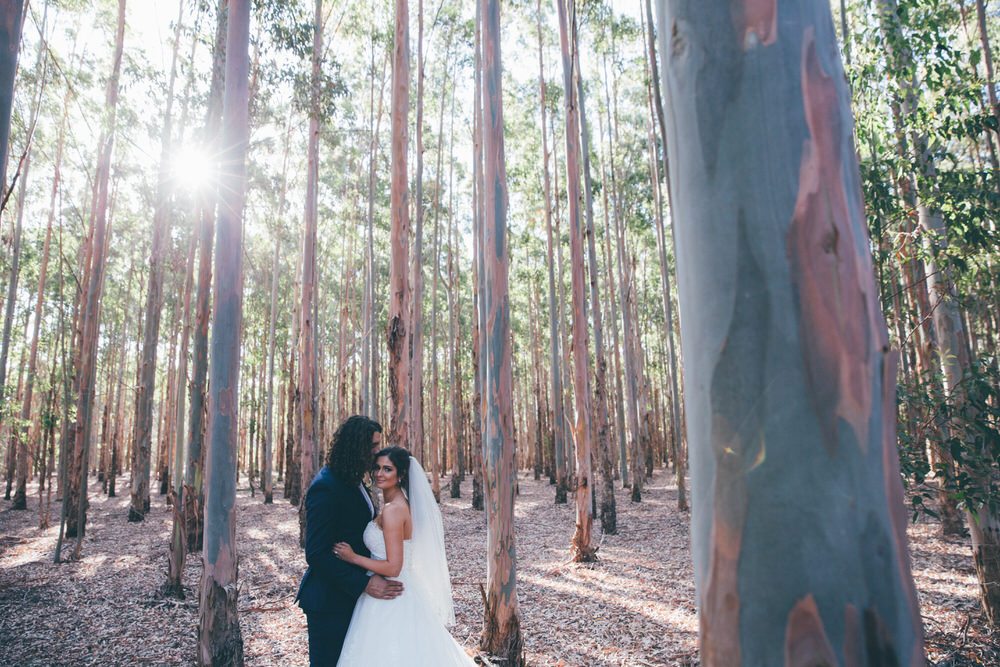 The Team
Photographer: Andrew Semark from  Capio Lux
Wedding Invitations:  Adorn Invitations
Dress: Luv Bridal & Formal Perth
Makeup: Belle Couture For Hair and Makeup
Hair: Abby Hair Expert
Shoes: The Bridal Room
Accessories: Love On Jewellery http://www.loveonjewellery.com.au/
Bridesmaids Dresses: Luv Bridal & Formal Perth
Grooms Suit: Echo Clothing
On The Day Stationery: BWedding Invitations
Cake: Celebration Cupcakes (Carina Pope)
Food: Supper Road
Flowers: Scentiment Flowers (Nardine Walford-Jones)
Ceremony & Reception Venue: Old Broadwater Farm
Styling: Bree Shine Event Styling